Thomas Fanning Wood
(1841 -- 1892)
The University of North Carolina has to date found only a handful of Wood's specimens in our collection. All specimens were collected in 1885 and 1886 and were signed "Dr. T. F. Wood." To date, only about 10% of NCU's specimens have been databased, so there is hope that we will locate more specimens collected by Dr. Wood within our collection as databasing progresses.
Photo (at right) courtesy of Wood Family Papers #172, Special Collections, William Madison Randall Library, University of North Carolina, Wilmington.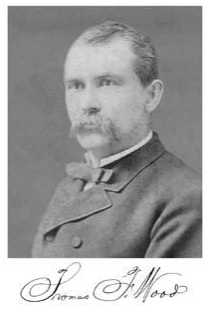 Thomas Fanning Wood (1841-1892)
by William R. Burk, 2006
Couch Biology Library, Botany Section
University of North Carolina at Chapel Hill
Thomas Fanning Wood, born February 23, 1841, in Wilmington, North Carolina, was the son of Robert Barclay and Mary Ann (Wilber) Wood. Young Wood attended several local schools. While at the Odd Fellows School from 1850 to 1857, later called Mr. McGinney's, he first studied scientific disciplines, including botany (Wood, 1914). Thomas Wood claimed that in his botany class he "learned very little, [and] didn't gain a high opinion" of the discipline of botany. Although Wood's introduction to botany was not very favorable, he later devoted much of his spare time to its study, publishing several articles on the flora of the Wilmington region.
Wood's early years were spent studying in various settings. At age 17, he entered the office of Dr. James Fergus McRee Jr. as a regular medical student. He taught at the school of Thomas H. Williams in 1858. He then worked in an office for Eli W. Hall, a lawyer, followed by a stint under the tutelage of Dr. William George Thomas. By 1860, he was a clerk for Eli W. Hall again, but he was also keeping a new drugstore that had been established by Louis B. Erambert. Wood enjoyed working in the store, where he could read and learn about drugs.
When the American Civil War commenced, Wood joined the Wilmington Rifle Guards, which later became one of several companies of the Eighteenth Regiment, North Carolina Infantry (Koonce, 2000). He joined the regiment in 1861, and he became a surgeon's assistant in Richmond, Virginia. He entered the Medical College there about October 1862. In January 1863, Wood received an invitation from the Surgeon General of the Army to appear before the Board of Medical Examiners in Richmond during February. After a successful examination, he served as an assistant surgeon at the rank of captain in the 3rd North Carolina Infantry, Army of Northern Virginia.
After the war ended, Wood devoted a lifetime to medical practice in his hometown of Wilmington. With fellow physician Moses De Rosset III, he co-founded in 1878 the North Carolina Medical Journal, a "Monthly Journal of Medicine and Surgery, published in Wilmington, N.C." He was founder of the North Carolina State Board of Health, holding offices of secretary and executive officer from 1878 to 1892. He was a member of the American Medical Association, the American Public Health Association (vice president, 1891), and the Medical Society of North Carolina (secretary, about 1868-1871; president, 1882). Interested in medical and scientific literature and in book collecting, Wood was an active member of the Library Association of Wilmington, in which he served as president at the time of his death.
About 1867, Wood earnestly began studies in botany, becoming particularly knowledgeable about the diverse flora of the New Hanover County, North Carolina, region. Among his botanical correspondents were William Marriott Canby, Moses Ashley Curtis, Allen Hiram Curtiss, Job Bicknell Ellis, Gerald McCarthy, Francis Peyre Porcher, Henry William Ravenel, and George Vasey. Of his forty-eight botanical publications, the best known was Wilmington Flora, which was published in the Journal of the Elisha Mitchell Scientific Society (Wood & McCarthy, 1886). It was a revision of the 1835 publication by Dr. Moses Ashley Curtis (1835), his botanical mentor, and it listed additional species, updated names, and expanded distributional stations. Also included was a folded map of the area covered.
Serving as chairman of the section on botany of the Historical and Scientific Society of Wilmington, Wood presented several papers at its meetings. Among those known are "North Carolina as a Field for the Naturalist" (Wood, 1881), "The Insectivorous Plants Growing Around Wilmington" (Wood, 1882), "The Edible and Poisonous Fungi" (Wood, 1928), and "Biographical Sketch of Moses A. Curtis, D.D." (also read before the Mitchell Society on May 23, 1885 ([Wood, 1885]). He reissued Dr. Curtis's (1835) description of the Venus' flytrap (Wood, [1887]) along with a new commentary on its distribution. A copy of this rare pamphlet is held in the North Carolina Collection at UNC-Chapel Hill. Wood's botanical expertise provided an appropriate background for his position on the Committee for the Revision of the Pharmacopeia, to which he was elected to serve ten-year terms first in 1880 and then in 1890. He was a charter member of the Elisha Mitchell Scientific Society. He served as its president from 1885 to 1887, and while ill-health kept him from meeting with society officers, "in various ways he [gave] assistance and encouragement" (Anonymous, 1887). One biographer (Anonymous, 1892a) noted that Wood had developed a herbarium and a collection of botany books; however, the fate of his herbarium is unknown (Stafleu & Cowan, 1988).
Thomas Fanning Wood died on August 22, 1892, at age fifty-one in his home at the corner of Second and Chestnut Streets, now the site of the New Hanover County Public Library (Anonymous, 1892b,; 1892c). The medical community commemorated his professional and social contributions with biographical memorials, and UNC professor Joseph A. Holmes gave an outline (unpublished) of Wood's valued life before the December 6, 1892, meeting of the Mitchell Society. Wood was survived by his wife, Mary Kennedy (Sprunt) Wood, whom he had married in Wilmington on November 17, 1875 (Anonymous, 1875) and his five children, Edward Jenner, Thomas Fanning, John Hunter, Jane Dalziel, and Margaret. Internment took place at the Oakdale Cemetery, Wilmington. Further insight into Wood's life has been recorded in publications by his biographers (Burk, 2006; Cooper, 1928; Koonce, 2000; Magruder, 1996). Several archival collections also house relevant papers on Wood (LHR, NCSA, and UNC-W).
Information from:
University of North Carolina Herbarium
CB# 3280, Coker Hall
University of North Carolina
Chapel Hill, NC 27599-3280